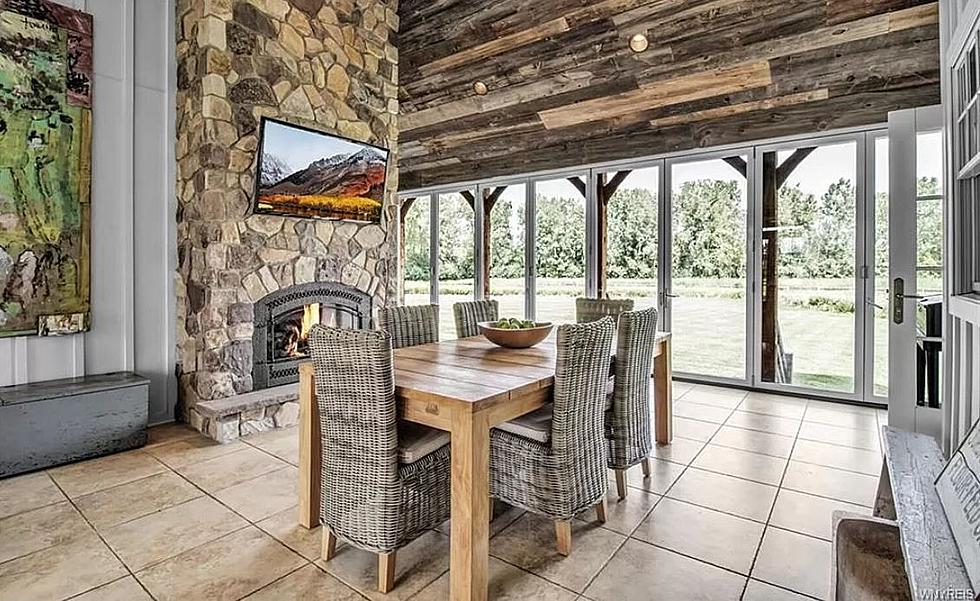 $2.4 Million Home In Elma, NY Inspired By HGTV [PHOTOS]
Credit: Zillow
Scouting potential homes is one of my favorite things to do. Who doesn't want a dream home? Even when finances might not work out for you, it never hurts to sneak a peek at an absolutely beautiful home.
Sometimes you see a home from the outside and aren't overly impressed. Then you see it from the inside and go, "whoa!"
That is what happened with this amazing home that is currently for sale in Elma.
Listed on Zillow for $2.4 million, this gorgeous home was actually inspired by HGTV's Asheville NC Dream House & Meadow Scape Feel.
This home was built in 2008 and features hickory hardwood floors, title-style and pebble-bottom floors; along with a huge kitchen that has granite surfaces and a farmhouse sink. The kitchen also has a gigantic island to prepare any meal you wish.
The home has four bedrooms and five bathrooms and one of the best aspects of the home is the fact it has huge windows for natural light, but the property is large enough for privacy.
The bedrooms are also amazing and feature furnished wood ceilings and hardwood floors.
This could possibly be my favorite home I've ever seen in Western New York. The outside is great but in my opinion, doesn't do what's inside justice enough. It's spectacular!
Check out some photos, courtesy of Zillow.
$2.4 Million New York State Home Inspired By HGTV
This home in Elma, NY was
inspired
by HGTV!
This $1.2 Million Home In Lancaster Has The Nicest Kitchen In WNY
We cannot believe how huge and gorgeous this Lancaster home's kitchen is!
LOOK: See inside a modern day castle complete with drawbridge
ALSO: PEEK INSIDE JON BON JOVI'S NEW $43 MILLION PALM BEACH MANSION