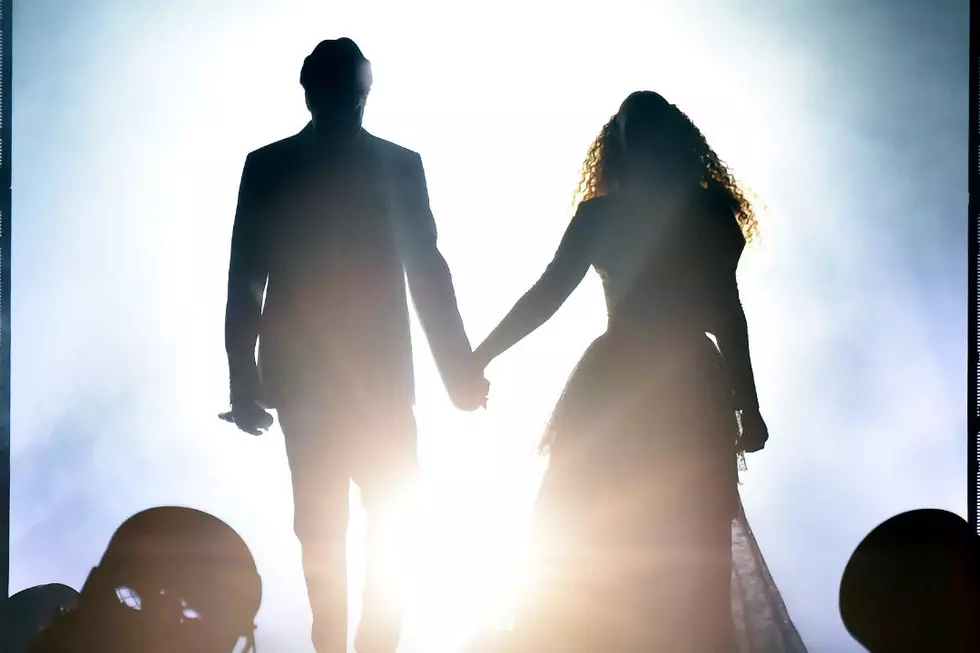 Beyonce + Jay-Z's 'On the Run II' Tour Officially Opens: Photos + Set List
Kevin Mazur, Getty Images
Four years after Jay-Z and Beyonce first toured the world, they're on the road...again.
The married couple's On the Run II tour officially kicked off Wednesday night (June 6) at Principality Stadium in Cardiff, United Kingdom and included the performance of 42 (!!!) tracks. Between live renditions of favorite songs like "Drunk in Love" and "'03 Bonnie & Clyde" to "Freedom" and "On to the Next One," longtime fans were treated to a little bit of everything from the first family of hip hop and R&B/pop.
The show features a visually stunning 26-person vertical orchestra and 17 dancers, according to Just Jared. And, according to Consequence of Sound, the show even comes equipped with a nod to the infamous Solange/Jay Z elevator incident.
On the Run II will hit Scotland next on June 9 before winding through Europe through mid-July. Then, on July 25, a North American leg will begin at Cleveland's FirstEnergy Stadium.
Check out the full set list and select photos from the opening night of Beyonce and Jay Z's On the Run II tour below.
1. Holy Grail
2. Part II (On the Run)
3. '03 Bonnie & Clyde
4. Drunk in Love
5. Irreplaceable (Interlude)
6. Diva (with segments of "Dirt Off Your Shoulder")
7. On to the Next One
8. Fuckwithmeyouknowigotit
9. ***Flawless
10. Feeling Myself
11. Top Off
12. Naughty Girl
13. Big Pimpin'
14. Run This Town
15. Baby Boy
16. You Don't Love Me
17. Bam
18. Hold Up / Countdown
19. Sorry / Me, Myself & I
20. 99 Problems
21. Ring the Alarm
22. Don't Hurt Yourself
23. I Care
24. 4:44
25. No Church in the Wild
26. Song Cry / MaNyfaCedGod
27. Resentment
28. Family Feud
29. Upgrade U
30. N----- in Paris
31. Beach Is Better
32. Formation
33. Run the World (Girls)
34. Public Service Announcement
35. The Story of O.J.
36. Déjà Vu
37. Show Me What You Got
38. Crazy in Love
39. Freedom
40. U Don't Know
41. Perfect Duet
42. Young Forever
Beyonce + Jay Z's 'On the Run II' Opens