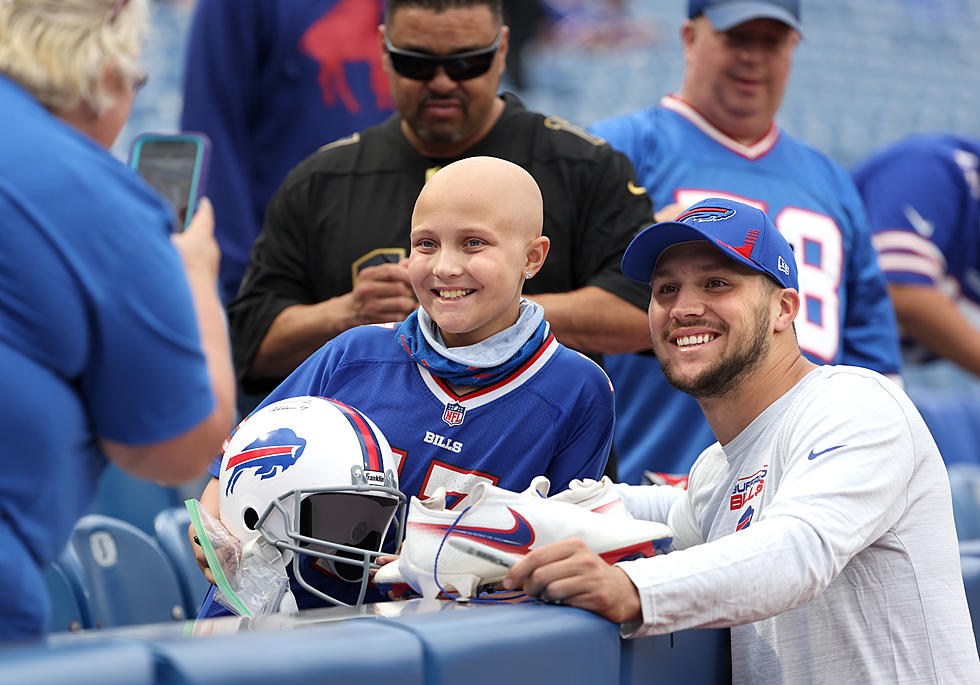 BillsMafia Boy Who Beat Cancer Scores Dream Come True
Getty Images
It's been an emotional couple of weeks for Joshy Hutchinson.  Not only was he able to celebrate no more cancer, but he was able to get a "dream come true" meeting.
You probably remember the story of the young boy who was celebrating his last chemo session in Syracuse.  He was getting his moment to ring the bell and show the world that he had fought cancer and was winning.  But he insisted on doing it his way.  He wouldn't ring the bell without doing it Bills Mafia style.  He had to have his Josh Allen Jersey...a Bills helmet and a table to jump through.  Well...they made it happen for him.
He got his wish.  He rung the bell the way the BillsMafia would.
The video made its way back to Josh Allen too!  He commented:
The coolest part is that it didn't end there.  The Bills home opener was this past Sunday at Highmark Stadium and Joshy Hutchison not only got to ring the bell, but he was able to meet the man whose jersey he was wearing when he did it.
According to WKBW, the two were able to hook up at the game and Joshy called it a "Dream come true!"
And get this...his dad Josh Hutchison used to be a Miami Dolphins fan.  While Joshy insisted on wearing his Josh Allen jersey to every single chemo session, his dad said that if Joshy was able to beat cancer, he would become a Bills fan too.
Well...it looks like the BillsMafia just grew a little bigger again.
Top Rated Buffalo Bills Players In Madden 22
Here are the top-rated Buffalo Bills players in this year's version of Madden football.
16 Buffalo Bills With Some Of The Best And Worst Nicknames
Every Pick Made By Buffalo Bills GM Brandon Beane
The Winningest Head Coaches In Buffalo Bills History