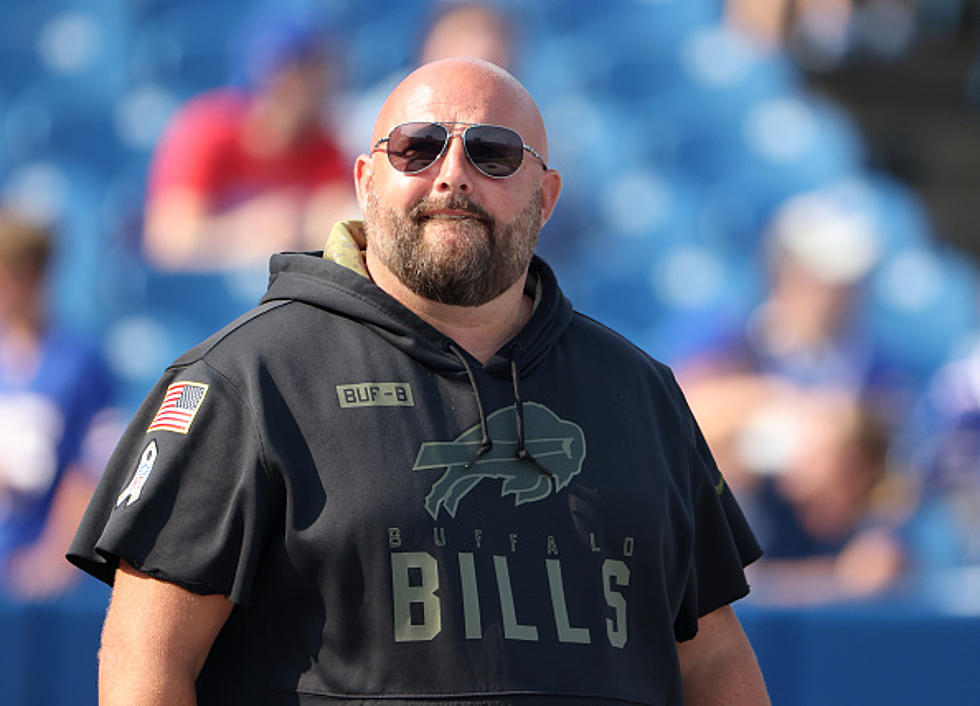 Chicago Bears Complete Interviews With Two Buffalo Bills Staff
Getty Images
A day after the Buffalo Bills defeated the New England Patriots in the opening round of the NFL playoffs, two members of their staff were interviewing for new jobs with the Chicago Bears.
The Bears posted on their Twitter page that the team has completed interviews with Buffalo Offesince Coordinator Brian Daboll and Assistant GM Joe Schoen.
This is the second interview for Schoen who also interviewed with the New York Giants last week.
The Chicago Bears were also expected to speak with Bills defensive coordinator Leslie Frazier about their head coaching opening.
The Chicago Bears finished the season in 3rd place of the NFC North with a 6-11 record. After the season the team parted ways with head coach Matt Nagy. Hagy had an overall record of 34-31 in his four seasons with the Bears. He took Chicago to the playoffs in his first year before putting together back-to-back 8-8 seasons before having a losing season this year.
Of course, if Brian Daboll would get the job, it could mean that former Bear 1st round pick Mitch Trubisky returns to the Bears. Trubisky signed a one-year deal with the Bills this off-season and has been the backup quarterback behind Josh Allen.
Both Daboll and Fraizer are also expected to interview for the head coaching opening in Miami.
Up next for the Buffalo Bills will be a rematch of last season's AFC Championship game as the Bills travel to Arrowhead Stadium to take on the Kansa City Chiefs. The Chiefs beat the Pittsburg 42-21 on Sunday night.
Amazing Photos From Bills Big Win Over KC
Check out some highlights from the Bills' big win over the KC Chiefs.
[THREAD] If McDermott takes this Bills team to the Super Bowl, and ultimately wins it, will he instantly become the best Head Coach in Bills history?
A Reddit thread began circulating on social media, and the subreddit has a variety of responses.
The Buffalo Bills 2022 Opponents
The Buffalo Bills 2022 opponents are officially set.