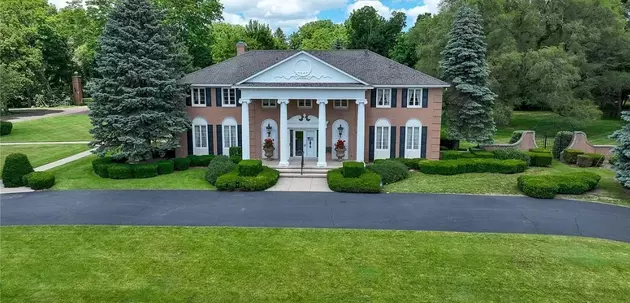 $1.6M Home For Sale Has Quirky Feature In Lockport, NY
(Zillow)
There is a home for sale in Lockport, NY for $1.6 million.  From this picture, it seems completely normal.  But it has one feature that really stands out.
When looking for a dream home, you want a place that matches your personality.  Whether that means you build your own to make sure it has your own personal touch, or you buy one and update it, deciding where to live can be a chore.
You search from place to place and can't really get the feel for a house until you've seen inside.  From the front, this place in Lockport looks completely normal.  But when you dig a little deeper, you can tell how incredibly unique it is.  It has one very quirky, very distinct feature.
Yup...it seems pretty normal on the surface.  It's a single family residence that was built in 1967.  It's got baseboard heating and central air.  It's based on 6 acres and has an attached workshop area in the garage.
It's a 4 bedroom/6 bath house that is over 8,000 square feet.  It is pretty extravagant.  I'd say it could use some updating.  They definitely had a specific taste when they designed this one.  But there's a ton of room.  It's got a spiral staircase to the second floor, a game room, a sauna, a weight room, and a bar.  It even has a 14 car garage attached.  But none of those things are what really make it stand out.
So what's so unique about it?  Wait until you see how long it is!
There's a website called Zillow Gone Wild and they called it 100% perfect.
I'm curious about this house.  Why is it so long?  Did it start out a certain size and just keep getting added onto?  Was it originally a building for something else?  Maybe a church?
If you'd like to see the original listing, you can find it by clicking here.
$1.6M Home For Sale Has Quirky Feature In Lockport, NY
$6.3 Million Mansion For Sale and Less Than an Hour From Buffalo
Step inside this amazing $6 million mansion, which is a 50-minute drive from Buffalo.
Incredible WNY Home For Sale Has Its Own Oasis
This
home
is a 45-minute drive from Buffalo and has an amazing oasis in its backyard.