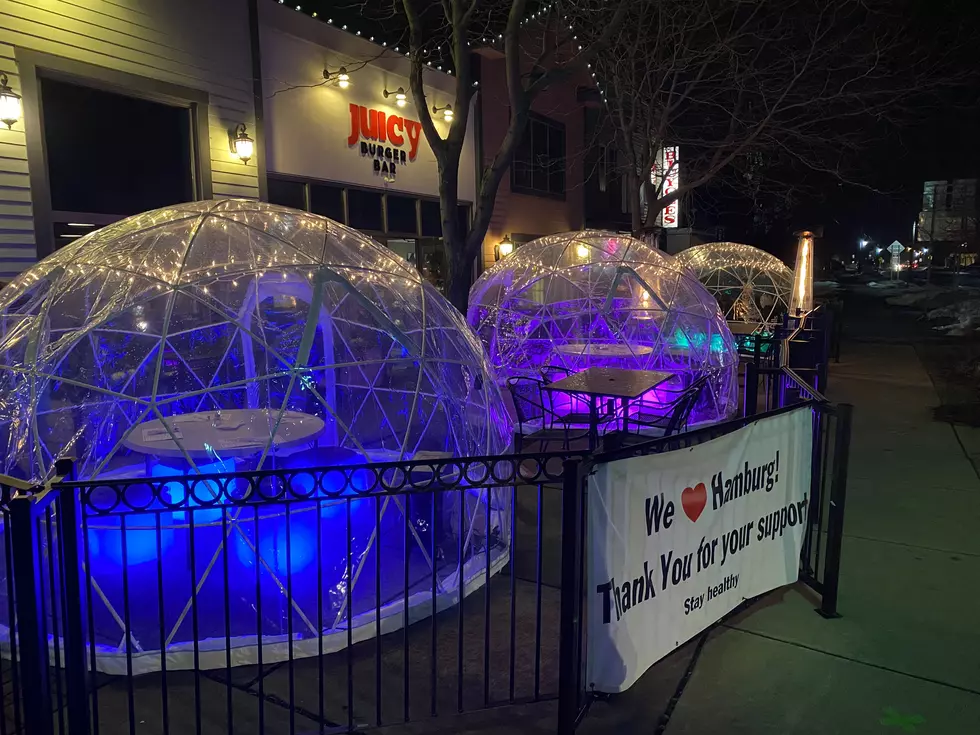 Looking For A Cool Dining Experience? You Gotta Try These Burgerloos In Hamburg
(Photo by Brett Alan)
Due to COVID restrictions in New York State, restaurants have had to get creative to find ways to get people at tables.  This is one of the coolest ways I've seen.
They call them burgerloos.  It's a plastic igloo that you can eat in and you'll find them at Juicy Burger Bar in Hamburg.
After driving by them on the circles of Main Street time and time again, we decided it was time to give them a try. So we made a reservation and stopped out for dinner tonight.  It was pretty cool.
The food is always incredible there.  If you like burgers that get stacked high, they've got all different kinds.  From burgers that are piled high with onion rings or covered in poutine to vegetarian burgers like the one that my daughter had.  The fries are awesome, the sweet potato fries with honey butter are delicious and the onion rings are some of the biggest and crispiest I've ever had.
The "burgerloos" as they like to call them are big enough to hold a table for 4 people.  Just small enough to be cozy, but big enough to fit our whole family of 4. They've got a small heater in them and a small speaker that you can connect your phone to.  This way you can choose your own music to listen to while you eat.
If you choose to try them out yourself, you're going to want to make your reservation soon.  Considering there are only 3 of them, the reservations fill up quickly.
You should also know that because they're trying to fit as many people in as possible, there is a 75 minute limit on your dining.
It's definitely a different way to dine.  It's secluded and feels more private than any other dining experience I've ever had.  And it's a way to still go out to eat and support a small business, which is something that they all desperately need at this time.
8 Specialty Wings You Need To Try In Buffalo