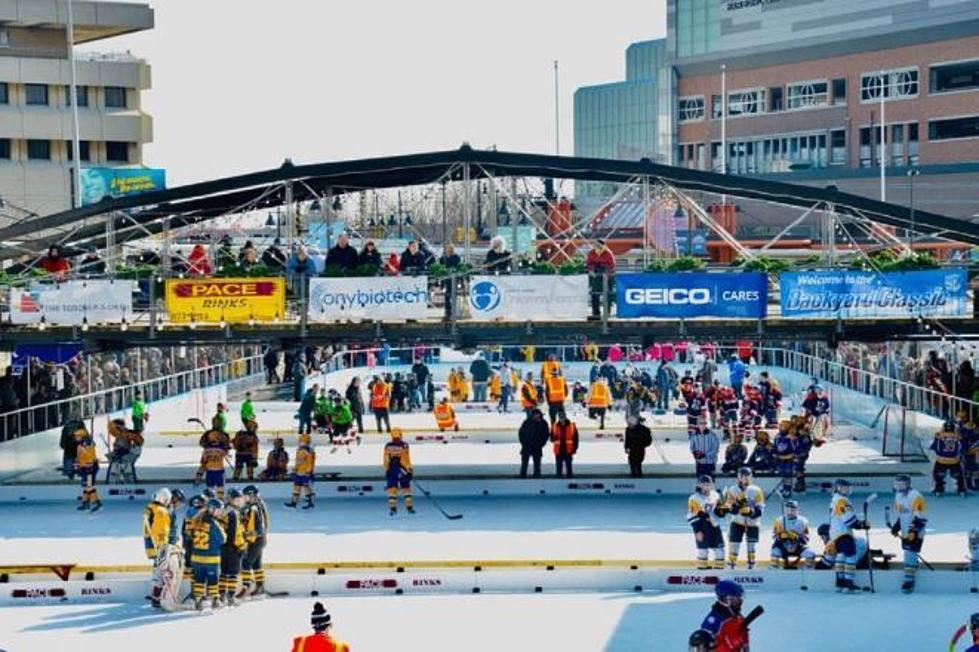 Massive Pond Hockey Tournament Returning To Western New York
Photo Credit: Tony Mastrangelo
Lace up your skates, grab a stick and some friends, and get ready to hit the ice for a great cause as the Backyard Classic Hockey Tournament is returning to Western New York in February.
One of the largest pond hockey tournaments in Western New York is back for the 13th year and gives people of all ages a chance to hit the ice and help out a great cause.
This year for the 3rd straight year, proceeds from the Backyard Classic will benefit Oishei Children's hospital. The event will run from February 4th until the 6th at Canalside.
Registration for the tournament ends on January 31st, so if you want to sign up you need to do so this week.
The Backyard Classic will have several different age groups and competitive and non-competitive brackets so that everyone can enjoy the tournament. Age groups range from 6u to over 30.
All teams will play at least three games and there will be playoffs. All games will be played on Saturday and Sunday of the weekend. There will be a youth skills competition on Friday evening to kick off the tournament.
The Backyard Classic was first put together to help out former Buffalo Sabre Dominik Hasek's non-profit "Hasek's Heroes" and was played by students from Williamsville North. 
Since that first year, thousands of kids and adults have had a chance to play in this tournament and they have raised thousands of dollars for local charities.
If you would like to play in the tournament this year, you will need to register by January 31st. Click the button below to sign up.
Co-founder of the Backyard classic Chris Taggart talks about the event.
Backyard Classic Hockey Tournament
The Backyard Classic returns February 4-6 at Canalside Buffalo.
Buffalo Sabres Goalie Masks
Take a look at some amazing Goalie Masks in Buffalo Sabres history.
Buffalo Sabres Captains Since 2000
Former Buffalo Sabres Player Sells Million-Dollar Clarence Home
One of the key players on the Buffalo Sabres 1999 playoff run, Richard Smehlik, is
selling
his Clarence home.