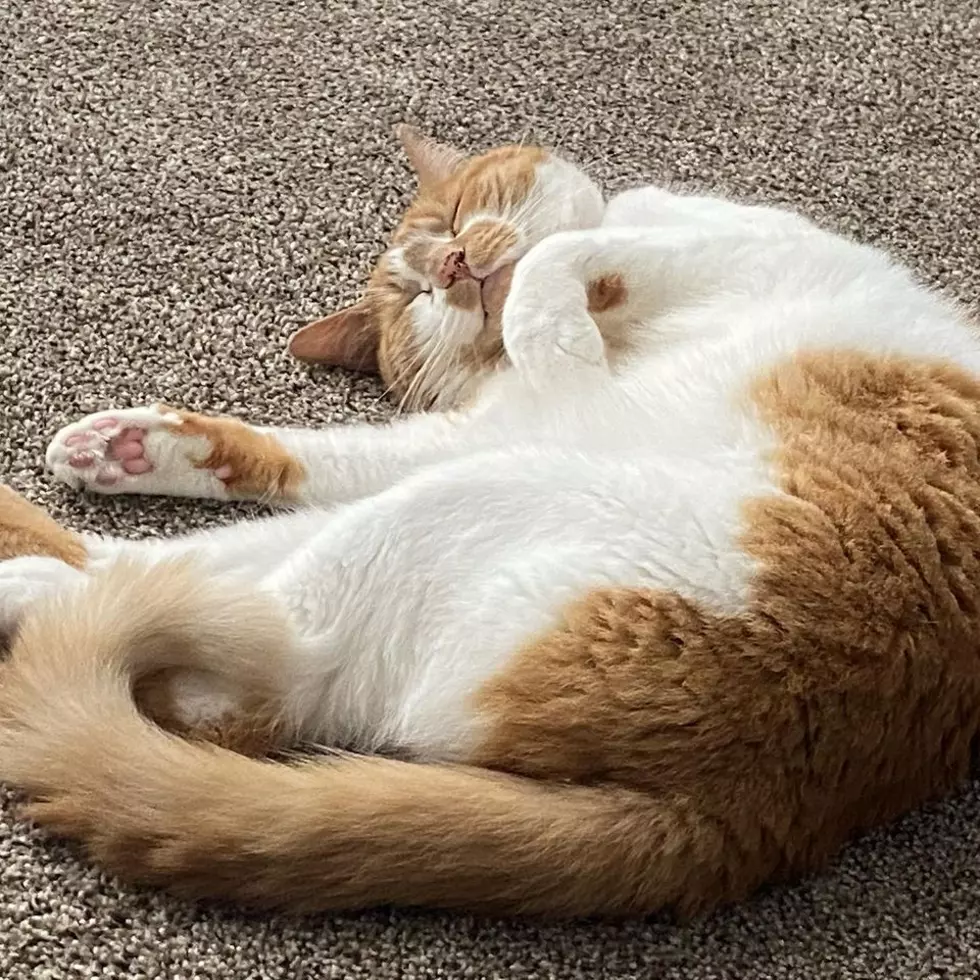 Photo Credit: Dave Fields/TSM2020
Anytime you meet a new pet here in Western New York you always ask what the furball's name is. Sometimes you get a Bob or a Spike then sometimes you get a Lord Meowtain or a Boy. There are some very unusual pet names in the 716 including my cat. I will admit that I am a Cat Guy and we have a cat named Stamp! I love spending time with my cat Stamp, but every time I tell people about her, they always want to know how she got her name Stamp.
Feel Good Mornings With Dave Fields Mon-Fri 6am-10am
The story is very simple. When my wife, son, and I were living in Panama City Beach, Florida, we lost our family cat Bebers. She was with us for over 13 years and had always been a part of my son Avry's life since the day he was born.
When we lost her to cancer, there was a huge hole in our family's heart. We waited for weeks and months, but then we knew we needed to add a new fur baby to the Fields family to make us complete.
We headed over to the Humane Society in Panama City and checked out all the cats there were in need of a new home. While we went back and forth we really couldn't decide. My wife liked an older cat named Angel and I was fond of another cat named Ginger.
Then Stamp showed up. She had just been dropped off and my son Avry fell right in love with the newest kitten at the Humane Society.
We asked about her and her backstory almost made us cry.
She was just brought in a couple of hours before we stopped in. She had been dropped off by a letter carrier. The mailman found her scared and alone in a mailbox. Yep...someone had put a poor little kitten in a cold dark mailbox. Based on her condition the people with the Humane Society said she had been there for several days....Alone, cold, and hungry.
We knew we had to adopt her and give her a better life than what she started with.
We were filling out the paperwork when one of the workers asked us if we had a name picked out. Based on her story of being found in a mailbox, someone suggested Stamp and we loved it! Stamp was perfect to turn a bad situation into a good one.
So Stamp it is! but of course, if you have pets, you know they have a million nicknames and Stamp is no different. She is also known as Lamps, Cords, Radar, Lou, Lou-bert, Estamilla, and so many many more names!
Meet Dave Fields' Cat Stamp
Today is National Pet Day and if you are anything like me, you treat your pet(s) like one of the family.
Five Exotic Pets That You Can Own in Upstate New York
If the thought of owning a dog or a cat or a parakeet sounds nice and all but you're looking for an animal that's a little more exotic, there are five super cute exotic animals that appear to be completely legal to own in Upstate New York, although you might want to check your local ordinance laws to be absolutely sure.
These 15 Reptiles Are Illegal To Own As Pets In New York State