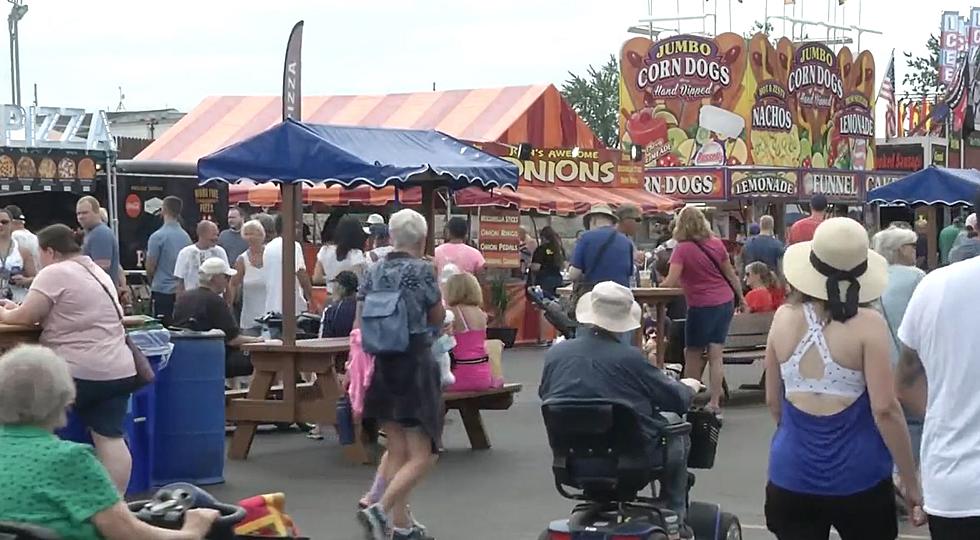 Pandemic Fears Not Keeping Crowds From Erie County Fair
Photo Credit: WIVB-TV
There's nothing "fair" about this year's Erie County Fair attendance...it matches earlier attendance so far, which means Western New Yorker's while keeping safety in mind aren't sheltering in their homes this Summer.
Usual attendance for the 12 days, of the Fair, is about a million visitors.
WIVB-TV reports that this week is the second week of the fair and officials say attendance has been on par with 2019 the last time the fair took place.
"Wednesday, Thursday, and Friday were a little less busy," said Jessica Underberg fair manager. "Saturday, Sunday and so far today are more busy."

"The first few days were slow, the last few days were above average, so we're looking for a good rest of the week," said Scott Kolassa owner of Kitchen Made Candy, who has been a fair vendor for several decades. "So if mother nature cooperates we should be doing great."
Officials have made several changes this year to adapt to COVID-19, including online ticket sales and taking credit cards. Rows of vendors were also moved to make way for more tables and chairs.
People I talked to said that it appears COVID will be here for a while, maybe even seasonally, similar to the flu, and while they want to be cautious, staying cooped up at home is no longer an option.
When I asked about masks...I was told that the majority of people, attendees and vendors were mask-free, and milling about as you would expect at an event like this.
The question, as in years past is more if the weather will cooperate. This week according to meteorologists looks like a typical Summer stretch in Western New York with daily highs in the 80's and the chance of a thunderstorm.
6 WNY Events That Would Be A Hit If They Came Back
Here Is What Western New Yorkers Think The Official Drink Of The 716 Should Be
Buffalo is known for wings and snow. But if we were to have an official drink what would it be? Here is what you voted for.
9 Buffalo Food Festivals Happening in 2021