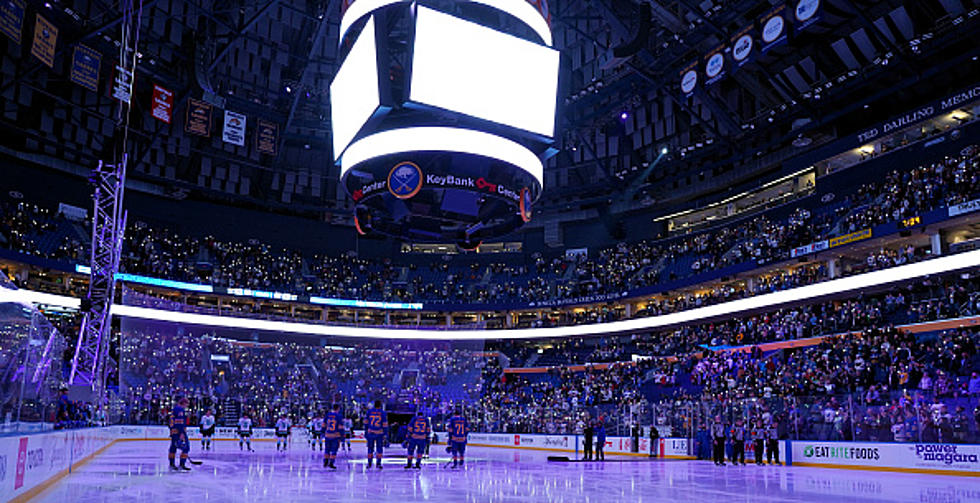 Sabres Fans Want These RJ Banners and Looks Like Wegmans Has Them
Getty Images
It was literally a perfect night for Buffalo Sabres fans on Friday.
The team honored legendary play-by-play man, Rick Jeanneret with a 20-minute ceremony before the Sabres game against the Nashville Predators at KeyBank Center and there was not a single dry eye in the sold-out arena.
RJ has a first class ceremony and the festivities continued throughout the night and the Sabres players did their job by defeating the Predators 4-3. Buffalo was the better team throughout the game, especially in the first and third periods.
The Sabres also raised a banner to the rafter for RJ and it looked spectacular. It showed his career spanning 1971-2022 and gorgeous blue and gold colors.
Sabres fans clearly wanted one of their collector ones for themselves and many people on Twitter were saying on Saturday that Wegmans had them. For pretty cheap too.
I'm not sure how many would be left but it's best to buy one now if you do see them at your nearest Wegmans.
RJ is literally single biggest reason people in Buffalo love hockey as much as they do. So many of us tried to emulate his calls when were playing street or parking lot hockey, ice hockey or pond hockey. I wanted to be a goalie because or Dominik Hasek and RJ's calls.
I hope RJ knows how many lives he has touched. He's one of the best play-by-play men in not just hockey, but any North American sport.
We'll miss you RJ.
Buffalo Sabres Goalie Masks
Buffalo Sabres Captains Since 2000
LOOK: Things from the year you were born that don't exist anymore
The iconic (and at times silly) toys, technologies, and electronics have been usurped since their grand entrance, either by advances in technology or breakthroughs in common sense.
See how many things on this list
trigger childhood memories—and which ones were here and gone so fast you missed them entirely.