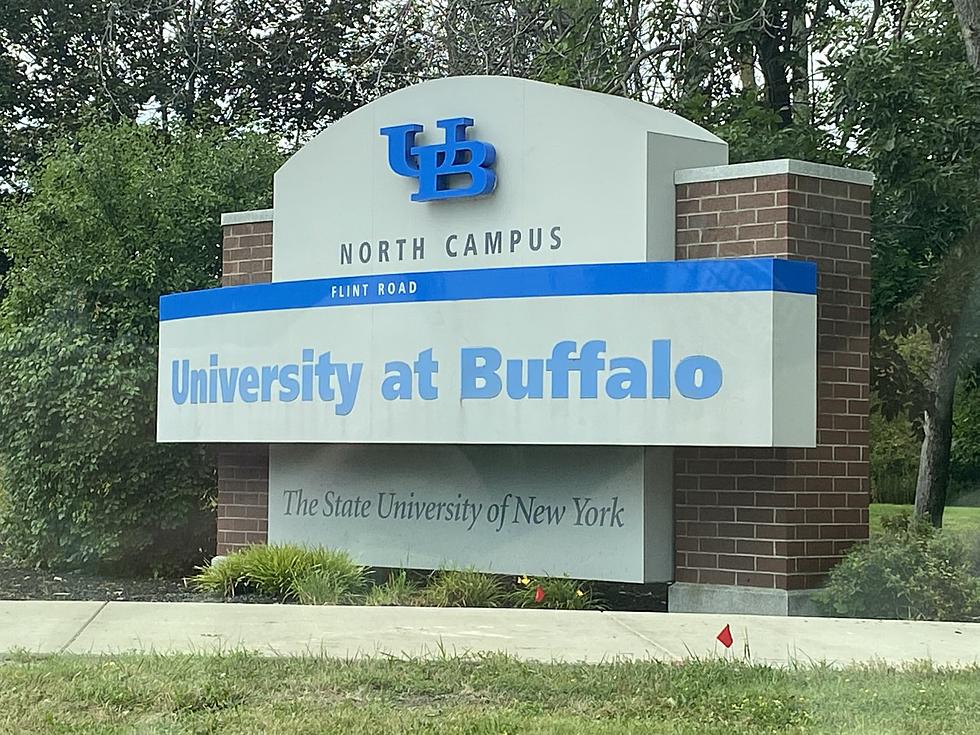 What The Heck Is This Big Blue Thing At UB's North Campus?
(Brett Alan)
You may have seen this thing from Maple Road by the UB Campus…but does anyone know what the heck it's actually for?
There are so many things that we drive by every day, or see all the time and don't ever question.
Yesterday my family and I were driving down Maple Road by the UB North campus when I saw what appeared to be some sort of athletic field or something with netting draped along the top.  I've always wondered what the heck it was, so while we had the time, I thought I'd drive over to it to see exactly what it was.
I still have no idea.
What The Heck Is This Thing On UB's North Campus?
It's got about 14 very large blue poles around the outside and what looks like netting draped around it.  It looks a lot like what you'd expect a batting cage to look, only there's nothing inside.  Aside from the lights in the lot, it's not lit up so if it was a batting cage, it could only be used in the daylight.  It's literally in the middle of a parking lot.  There's a door on the side so that people can get in and out of it.  There are even picnic tables on the outside.
Is it a batting cage that they only use in the spring?  A place for people to go to eat lunch and get away from it all?  Butterflies?  I'm joking about the butterflies, but I'm sure there has to be someone out there that knows what this is used for.  I felt kind of stupid until I asked around and realized that no one I know has any idea what it is either…
Anyone?
UPDATE!!  Thanks to Craig Richard Hooftallen for sharing this link with us.  It's a Drone Testing Facility!
Did You Know These Items Were Invented In Buffalo?
Buffalo is known as the home of the Chicken Wing, but did you know there were a lot more things invented in the Queen City.
25 Ways To Annoy A Western New Yorker In 5 Words Or Less
15 Things That Will Convince Anyone You're a Western New York Native
Buffalonians have a way of spotting one another even across great distances, like the time I ran into a couple from Alden while in line for an empanada in Key West. But what about if you're new here? Is there a learning curve to being part of the City of Good Neighbors?
READ ON: Weird, wild UFO sightings from throughout history