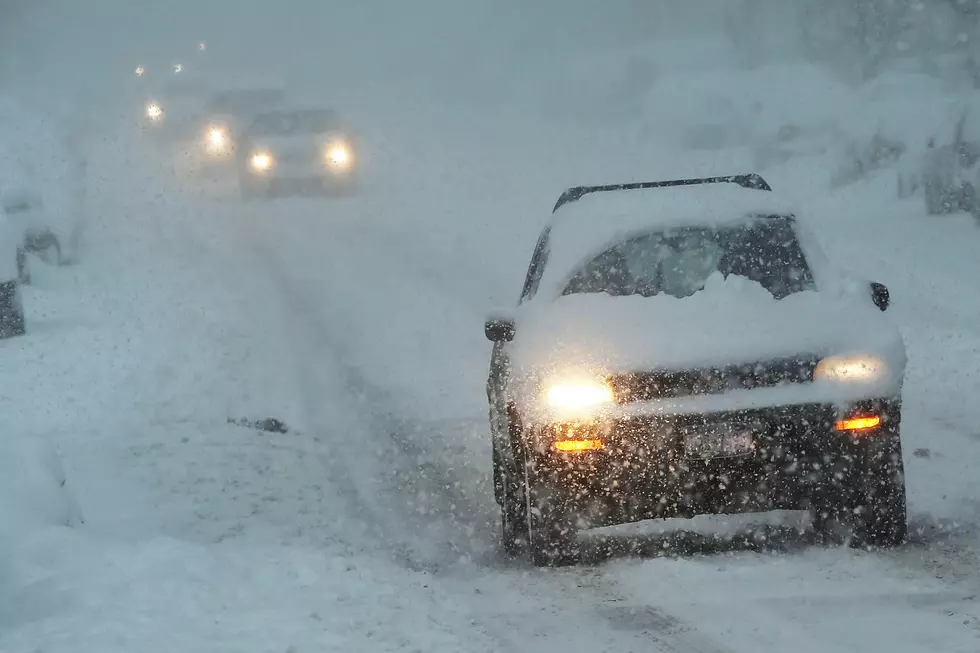 Winter Storm Watch For All of Western New York
Spencer Platt
It's been a downright awful winter, here in Buffalo and Western New York. There's no sugarcoating it, January 2021 rivals any other January for cold and snow, and is in the top seven snowiest Januarys in Buffalo's recorded history.
We've already seen two major snowstorms hit the City of Buffalo this winter season, with many other minor to moderate accumulations, and there's yet another winter storm heading for Western New York.
This isn't a run-of-the-mill winter storm though, as it will impact much of the Midwest and northeast from Tuesday through Friday.
It's called "Winter Storm Landon" and will arrive in Western New York this Wednesday, although the day to watch out for will be Thursday for us in Buffalo.
The National Weather Service just issued a "Winter Storm Watch," which goes into effect from Wednesday evening and goes through Friday afternoon. This will be for all of Western New York.
This storm will impact the region with rain and sleet to start, then all snow by early Thursday morning, and accumulations of 9 inches or more is likely.
The snowfall could produce greater amounts; we just don't know exactly because of the line of colder air and warmer air, and when it shifts to all snow for the region.
The National Weather Service states that travel could be difficult to impossible during the storm, especially hazardous for the morning and afternoon drive time.
WKBW shared the Monday morning Euro model, which shows a foot of snow or Buffalo.
We'll likely know more precisely on snowfall totals as we get closer to the storm, which arrives in just about 48 hours.
24 Amazing Pictures Of The Snowfall In The Last 24 Hours In WNY
26 Worst Streets To Live On During a Snow Storm
When the snow doesn't let up, it makes you wonder if a plow has shown up — at least once? They most likely have, but nonetheless, these are the worst 26 streets to live on during a snow storm in Western New York.
37 Restaurants Serving The Most Mouth-Watering Steaks In WNY
RANKED: Here Are the 63 Smartest Dog Breeds
Does your loyal pup's breed make the list? Read on to see if you'll be bragging to the neighbors about your dog's intellectual prowess the next time you take your fur baby out for a walk. Don't worry: Even if your dog's breed doesn't land on the list, that doesn't mean he's not a good boy--some traits simply can't be measured.
LOOK: 50 famous memes and what they mean
With the infinite number of memes scattered across the internet, it's hard to keep track. Just when you've grasped the meaning of one hilarious meme, it has already become old news and replaced by something equally as enigmatic. Online forums like Tumblr, Twitter, 4chan, and Reddit are responsible for a majority of meme infections, and with the constant posting and sharing, finding the source of an original meme is easier said than done. Stacker hunted through internet resources, pop culture publications, and databases like
Know Your Meme
to find 50 different memes and what they mean. While the almost self-replicating nature of these vague symbols can get exhausting, memes in their essence can also bring people closer together—as long as they have internet access.
LOOK: Here is the richest town in each state
Just saying the names of these towns immediately conjures up images of grand mansions, luxury cars, and ritzy restaurants. Read on to see which town in your home state took the title of the richest location and which place had the highest median income in the country. Who knows—your hometown might even be on this list.
LOOK: Best Beers From Every State
To find the best beer in each state and Washington D.C., Stacker
analyzed January 2020 data from BeerAdvocate
, a website that gathers user scores for beer in real-time. BeerAdvocate makes its determinations by compiling consumer ratings for all 50 states and Washington D.C. and applying a weighted rank to each. The weighted rank pulls the beer toward the list's average based on the number of ratings it has and aims to allow lesser-known beers to increase in rank. Only beers with at least 10 rankings to be considered; we took it a step further to only include beers with at least 100 user rankings in our gallery. Keep reading to find out what the best beer is in each of the 50 states and Washington D.C.